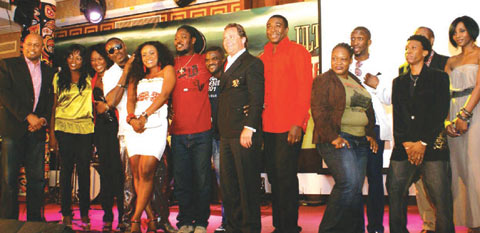 Nollywood star actor, Bob-Manuel Udokwu was not surprised last Friday when fate pitching him with actress Genevieve Nnaji as host of the maiden edition of the popular reality and celebrity show, Gulder Ultimate Celebrity Search, sponsored by Nigerian Breweries Plc.
This show, which makes its debut this year, according to officials of the brewing company, will however not replace the front line show, Gulder Ultimate Search. The original GUS show made its debut seven years and will resume later this year.
Udokwu is the three times host of the widely televised reality show. He will be in the jungle with the other nine celebrities searching for the lost treasure in this edition of the Gulder Ultimate Search Celebrities.
He was once a leader who will now be led by another of his own, Genevieve Nnaji. "My legs are wobbling, the leader will now be led,"Udokwu muted as he realised that he was going to join the likes of Daddy Showkey, Emeka Ike, Funke Akindele, Chioma Chukwuka, Muma Gee, Dare Art Alade, Weird MC and fuji musician, Obesere to climb trees, mountains and ropes in search of the hidden object.
There's no doubt Udokwu has advantage over other celebrities as a former host of the yearly show. But in the jungle, he will have the likes of Daddy Shwokey, Emeka Ike, Obesere and perhaps, Dare Art Alade to outwit.
However, one thing will set the reality show apart from the regular one. The celebrities will all take a sign_on_fee to participate and each will get eviction fee based on when evicted.
Showtime learnt that activities in the house will also include the regular physical work and a bit of intellectual exercise will also be introduced to make it more exciting. Shooting commenced last Friday and the programme will go on air any moment from now.
Running on AIT, NTA network, STV, Africa Magic, Soundcity (DSTV) and other stations as an original Nigerian adventure programme with international standard, the audience will be treated to an 11 week- show of talents, fame and excitement.
From: Vanguard Nigeria
AllBlogToolsFacebook comments for blogger brought to you by AllBlogTools.com , Get Yours?